Please read if you are new or if there are updates!
Remember to use your bank account to receive your salary money and to store money tax free!
---
---
---
Visit our website www.CivilGamers.com
The server needs you! Become a donator to get ingame perks, powers and jobs! Offers start from just £5!
Use the Teamspeak server and talk with the community. ts3.CivilGamers.com
Find the VIP rules HERE!

We encourage our users to share our server with the world by making Youtube videos or posts and share us with your friends to help us develop!


---
---
---
Please note:

If a staff member tells you something that is not in the MOTD... the staff member is correct! Don't argue with staff members judgement.
---
---
---
Job payday money is sent to your

bank account

, not your wallet!

[ unless u have no bank account :3 ]


Press F4 to see the DarkRP menu, from here you can change job / name / givemoney etc.
Store your money in the banks, It will save you from loosing money from the tax.
Press and hold C to view your inventory. You can use the inventory to pickup weapons and items using the "inventory pickup"
Try to have a roleplay suitable name (Adam Brians etc..) although you don't HAVE to do this but its nice if you do :3
Don't be a job just for the weapons or model, use them appropriately to improve Roleplay! Failing to do so will get you demoted.
Fading door hold time needs to be at least 5 seconds. Having 2 faded doors close to each other is not allowed ! there must be space between to stand in.
Remember to

respect NLR.

New life rule, mean you have to wait 3 minutes before returning to the place you died.
Try to create role-play, don't place random hits, its annoying for the person who gets killed...
RDM is taken seriously, we will not give you a second chance, you know whats random and what isn't...
---
---
---
What is NLR ?
What is RDM?
What is Job Abuse?
What is FearRP?
KOS lines (How to)
What is Probclimb/surf?
What is Prop Spam?
What is Fail RP ?
What is Ropespam?
What is FDA ? (Fading Door abuse)
What is RDA ? (Random Arrest)
---
---
---
Rules of engagement / Raid Rules

- When you mug you must do /advert MUG. You must mug someone in an area which is believable, I.E an area where a mugging would realistically take place. To elaborate, a mugger would not attempt a mug in the middle of an open street or in a place where it is likely that other people or police might witness the event, this includes (but is not limited to) areas such as the park, the tunnel to spawn, the park, etc... A mugger would likely think it is safe to mug someone in an area such as a secluded alleyway, or perhaps a quiet area such as the beach stairs.
- Only mug once every 5 minutes for a maximum of 2k.
- Only raid once every 5 minutes.
- You can't assist a raid unless you have a similar tag in your name which is indicating that your are grouping with the guy/guys. You can also advert "Raid Assist".
- You can advert raid for an gang by being the leader and including the name of the gang. Example /advert RAID HOLMGANG by Holmenlund Leader of Holmgang.
- Using drugs during raids is not allowed! However using potions are allowed!
- You are not allowed to build during RAIDS ! If you are a PD member then prepare ur stuff before the raid starts.
- Only raid the same person/place/base once every 15 minutes (does not count for police).
- Don't raid peoples bases when they are having a building sign.
- Don't return to a raid after dying for 3 minutes. This is breaking NLR. When the timer is up, you may return to that area.
- You have to do /advert Steal in order to steal objects! You can only steal objects in which you can gravity gun, you can not /advert steal and blow someones brains out
- You have to /advert Raid when raiding a building. PD Members do not have to advert as the WARRANT counts as an advert!
- Don't raid as an excuse kill to innocent civilians! If they do not pose a threat try avoid killing them and create an RP situation out of it instead.
- Police can only raid with a valid reason, not suspicion. Seeing sparks through walls or other non-RP proof is not a valid reason for warrant. You need VISUAL or AUDIO proof!
- Police can not have assistance from any other non-government team when raiding.
- If (for some reason) 2 gangs / individuals own two parts of the same building, the party owning the front door to the building has the right to attack the minority owner without the need of a raid advert.
- You are not allowed to /invholster your weapon during a combat situation.
- You are not allowed to abuse hit-boxes whilst in a combat situation. This includes, but is not limited to, spamming crouch jump whilst in combat.


[NEW]

- When defending from within a base you are not allowed to be wearing conglomerate armour.

[NEW]



-Countering events not allowed!


-Such as Counter Raid / Mug / Kidnap / Steal



-You may only raid PD if you have a valid RP reason. There must be at least 6 PD officials on for you to raid the vault otherwise funds cannot be stolen.


-Raiding PD to kidnap mayor, robbing the bank or to breaking out a friend is reasons to raid PD. 15min cooldown for gold.



-If you're going to raid the PD you need to be just outside the entrance or inside the PD.


-Standing down the road sniping people is not acceptable
---
---
---
The following list shows the restrictions imposed upon each job.
Class
Description
Allowed weapons
Raid
Kidnap/mug
Printers
Allowed to base

Bank Manager

Stores printers for others legally.
Handguns
No
No
Yes
Yes

Black Market Dealer

Sells guns and drugs. He also can make people unwanted for a price.
Any
No
No
Yes
Yes

Bounty Hunter

You deal with tracking down and eliminating bounties. What you do is highly illegal and is classed as 1st Degree murder.
You can only kill targets with bounties and can't take hits from people.
All bounties must be set through the bounty NPC. You may not base with others however you can own a roleplay home.
Any
No
No
Yes
No
Casino Manager
Owns and manages the casino.
Any
No
No
Yes
Yes
CGSF Officers
You are the Special Forces of Civil Gamers. You are there to handle raids and situations normal SWAT and Police can't handle!
Take their orders direct from the CGSF Commander.
Any
Warrant Only
No
No
No

Chef

You're a cook! You cook for people! Go set up a restaurant and get attention from Gordon Ramsay.
You may not base with others however you can own a roleplay home.
Handguns
No
No
Yes
No

Chemist

Makes drugs (lets cook).
Handguns
No
No
Yes
Yes
Chief of Police
Takes direct orders from Mayor
Commands the Police force.
Any
Warrant only
No
No
No
Citizen
Default server class with no special abilities.
Handguns
No
No
Yes
Yes

Club Fighter

Can fight another fighters in player made arenas.
Fists
No
No
Yes
Yes
Doctor
Makes clinics or hospitals to heal people for free or by charge. You may not base with others however you can own a roleplay home/clinic/hospital.
Handguns
No
No
Yes
No
DJ
Can spawn their own radio to play music.
Not allowed to play music unless they have a DJ stand.
None
No
No
Yes
Yes
Dwarf
Same as citizen just shorter.
Handguns
No
No
Yes
Yes

FBI

The FBI Agent's job is to investigate crimes. He is allowed to knock on doors and investigate suspicious
houses and bases and may raid if there is a genuine concern about someone.
An FBI Agent may only raid with with the S.W.A.T and Police after receiving permission from the Mayor.
During an investigation evidence such as Printers and Meth may not be destroyed.
This is proof for the Chief and the CGPD. You may set up some hidden cameras in a base during your investigation if
you've gotten permission from the Chief.
Any
Only with permission
No
No
No
Free runner
Runs around the map, climbing on to roof tops and does cool parkour stunts that you can show off to others.
Handguns
Yes
No
No
No
Gangster
Basic member of a gang.
Any
Yes
Yes
Yes
Yes
Gun dealer
Sells guns to the public. Cannot base but is allowed a shop to sell guns.
Any
No
No
Yes
No
Hacker
Has very powerful hacking tools
can be hired
Handguns
If hired
No
Yes
Yes
Heavy Gun dealer
Sells heavy guns to the public. Cannot base but is allowed shop to sell guns.
Any
No
No
Yes
No

Hitman

Can accept valid hits on people. Cannot base but is allowed a roleplay home.
Any
No
No
Yes
No
Hobo
Can build non-advanced things on the streets. Cannot base but is allowed to setup a roleplay home.
None
No
No
No
No
Hobo lord
Lord of the hobos. Cannot base but is allowed to setup a roleplay home.
None
No
No
No
No
Hotel Owner
Owns and runs the hotel.
Handguns
No
No
Yes
Yes

Lizard Man

Hates the government (do NOT RDM though).
Any
Yes
Yes
Yes
Yes

Magic Bartender

Can sell weed and energy drinks.
Handguns
No
No
Yes
Yes
Magic Tree man
Makes potions and sells them.
Handguns
No
No
Yes
Yes
Master Thief
Same as a thief but better and faster.
Any
Yes
Yes
Yes
Yes
Mayor
Elected leader by the public. You can only own a roleplay home.
Handguns
No
No
No
No
Mayor's daughter
Part of mayor's family. You can only own a roleplay home.
Handguns
No
No
No
No
Mayor's Secretary
Works for the mayor, does mayors bidding. You can only own a roleplay home.
Handguns
No
No
No
No
Mayors wife
Part of mayor's family. You can only own a roleplay home.
Handguns
No
No
No
No
Mayor's Bodyguard
Mayor's Bodyguards objective is to protect the mayor at any cost. You can only reside in the home of the Mayor.
Any
No
No
No
No

Mercenary

Can be hired into a gang
comes with set of weapons.
Any
If hired
If hired
Yes
If hired
Mob Boss
Owns and controls a specific gang.
Any
Yes
Yes
Yes
Yes

News Reporter

Can spawn a camera that can display live footage on rt_screens.
You may not base with others however you can own a roleplay home.
None
No
No
Yes
No
Pet
You are a pony. You can fly around and live inside of people's homes (if they let you).
Fists/hoofs
No
No
No
No

Pimp

As a Pimp you go pimp out. Walk rich and successful knowing your brothel has got the whole server looking for it.
Handguns
Yes
No
Yes
Yes
Police officer
Upholds the law, and arrests lawbreakers
Takes direct orders from Chief of Police.
Any
Warrant only
No
No
No
Prostitute
Can heal but is not allowed to heal any government officials.
You may not base with others however you can own a roleplay home/brothel.
Handguns
No
No
Yes
No

Security Guard

Can be hired to protect a building.
Any
No
No
Yes
If hired
Sewer Dweller
Can build non-advanced things in the sewers. Cannot base but is allowed to setup a home with fellow Sewer Dwellers.
None
No
No
No
No

Shark

Can do anything within the rules. Is like the gangster.
Any
Yes
Yes
Yes
Yes
SWAT
Takes direct orders from the SWAT Team leader
Any
Warrant only
No
No
No
SWAT Medic
Takes direct orders from the SWAT Team leader
Heals other SWATs, officers and occasionally innocents.
Any
Warrant only
No
No
No
SWAT Sniper
Takes direct orders from the SWAT Team leader
Has sniper advantage over the enemy.
Any
Warrant only
No
No
No
SWAT Team Leader
Takes direct orders from Chief of Police
Commands the entire SWAT Team.
Any
Warrant only
No
No
No

The Flash

His name is Barry Allen, the fastest man in the world!
None
No
No
No
No

Thief

Can break into houses.
Any
Yes
Yes
Yes
Yes

Private Military

Can be hired by an organisation to help defend them. Are not allowed to operate un-hired.
Any
If hired
Kidnap: Yes
Mug: No
No
Yes
---
---
---
Building rules
1. There must be at least 1 entrance to your base, the entrance can't pass through houses unless you own them.

2. You are allowed 3 fading doors in a row, leave space between them so you don't get stuck. The hold length must be 5 sec.

3. Having 2 faded props in a row activating to the same keypad is still not allowed.



4. Don't build trap bases, people must be able to leave the same way in which they entered the building

5. Ensure corridors are of a sufficient size for players to travel through. Using keypads or making corridors extremely narrow to limit access is not allowed. This includes the corridor being narrow enough so that defenders can shoot into Hex shields because it is that small.

6. KOS lines must be made of 5 lines or less (to reduce lag) and there have to be a sign displaying it as well

7. You are not allowed to have any fake keypads per fading door. Keypads must be visible and close to the door, while having the original material as well.

8. A building sign is allowed for 30 minutes, this means people can't raid you however you also can't have printers / guns / maxnet / drugs or KOS lines until the sign is taken down.

9. You must be a hobo to build in the street unless given permission to by an admin - This also applies if you wish to make checkpoints etc, always get admin permission before doing so.

10. We do not allow crouch entrances / tunnels ( Bases that are long hallways of death with fading doors) ((2 "fence03a" fences)) / Mazes ( Bases with no more than 3 direction changes is allowed ) / kill boxes ( These are boxes / Rooms that are unclear in where to get to and are used for the sole purpose of killing Raiders) / colour-rooms (This means you can't have rooms where you don't know up and down, left or right. it is usually made with black, so you can't see anything), Tiering Bases (These are multi-floor bases, Ladder Bases, Etc. Any base that goes up or down in the defenses increasing the challenge for the raider in an unfair advantage for the defender.), Snaking Bases (This is a base that goes back and forth and back and forth several times normally utilizing one fading door in the middle to slow progress down.), Jump / Parkour bases (These are bases that require you to jump from platform to platform in order to get to your fading door or keypad.) Overhang bases (An elevated section of a base, protected by storefront props which allows defenders to shoot raiders before they've breached the front door).

11. Hidden or non obvious no collided walls in bases are not allowed.

12. No-collided entrances are not allowed, the main entrance must be a regular door or faded door prop of you choosing. The path through must be clear and not hidden.

13. The fading door tool, is for doors only. Not for bridges or other kind of builds that keeps people out of your base.

14. You may build on roofs if: You can access it without the making of bridges etc, If it doesn't block the house itself and lastly that it is within reason. It you start building expansions that exceeds the roofs size then we are nearing the limit. Ask admins if in doubt.

15. You may build extensions to buildings. It must be within reason really, if it stick out on the street then you will need admin permission ! Admins may delete your extension if he/She finds it not fit for the server. Building huge bases in order to hide world buildings and criminal activity (this includes creating something unrealistic e.g. Walkway entrances that you can be shot off etc.) is not appropriate.

16. You are not allowed to build over an ATM location which prevents access to other users and allows you risk free benefits of depositing money.

17. You're not allowed to use buttons during a raid to toggle fading doors.

18. You are not allowed to build defenses where you can only shoot the raiders but they can't shoot back.


Such as having a defence where you can shoot their feet but they can't shoot you back



19. Keypads must have a time of 0 Initial delay on them. This can be done in the Keypad tool and setting the Initial Delay to 0. This must be done for both Denied and Accepted settings on the keypad. Failure to do so will result in the removal of your base.

20. You cannot place a KoS line on the pavement in the middle of town or in the spawn area.

21. A base entrance has a maximum length of two long fences stacked side by side, from the point of where you can start shooting. By long fence, I mean 'models/props_c17/fence03a.mdl'. If you're uncertain if what you're doing is allowed, ask an admin.

22. You may not build over the pavement. This includes things which are elevated but still over the pavement. Pavements are for KOS lines and the only people who are allowed to place props on them are hobo's.

23. Don't use toolgun cameras to defend your base. Use the camera that you can buy from the f4 menu. Using the toolgun cameras for non defence reasons (ie. For the bounty board) is fine.
24. Don't use Textscreens / Wire Textscreens to defend your base. If an admin thinks that a prop/entity you've used is unsuitable then they may remove it.
25. Do not have floating Cameras. If you are going to stick a Camera outside of your base, mount it on a wall.
26. You may not build outside the FRONT of the terrace houses in residentials
27. You may block up the BACK GARDENS of the terrace houses in residentials
28. You may not build (non-decorative) walls around the large fence surrounding the 2 floor house in residentials any higher than 1.5x taller than the fence.
29. You may not build walls surrounding the bungalow in residentials
---
---
---
Business Rules

1. A public business cannot deliberately devalue a business. To prevent scamming shareholders, a business cannot withdraw more than it is earning without a valid reason. If shareholders feel like a business is being abused, they can make a report on the forums.

2. A public business can inflate the businesses price by injecting cash to the treasury to inflate share prices to prevent a hostile takeover (share buyout by single individual). After that is over, the money used to inflate the businesses value can be withdrawn without breaking rule 1.

3. Businesses can place a NON INTRUSIVE marketing structure on the street to promote the business. The marketing structure must be REASONABLY SIZED and NON INTRUSIVE (Example below). If a staff member thinks your structure is not sensible, they may remove it.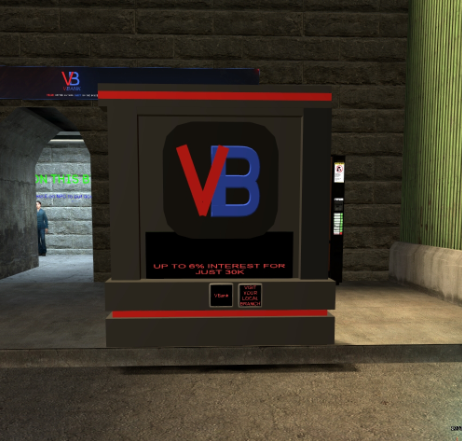 4. The management of a BANK must not abuse treasury funds provided by account holders. If a banks treasury is less than 60% of the money stored in all their customer accounts, the bank is considered illegitimate. If this is not resolved quickly, we may replace your management with others.

---
---
---
Common Rules

1. Don't spawn kill
2. Don't Prop push
3. Don't Prop block / This includes using riot shields to block entrances
4. Don't Prop trap
5. Don't Prop kill
6. Don't Prop climb
7. Don't Prop surf
8. Don't Prop spam
9. Don't RDM (Random Deathmatch)
10. Don't break NLR (Returning to your place of death within 3 mins)
11. Don't job abuse
12. Don't build in the jail cells
13. Don't build at spawn
14. Respect all players and staff of the server
15. Don't be racist
16. Don't be sexist
17. Don't use an abusive tone
18. Only have a custom job if you are a citizen
19. Don't DDoS
20. Don't hack / use scripts
21. Don't abuse any glitch you may find
22. Don't Scam others
23. Don't rope-spam
24. Don't meta-game
---
---
---
PD members Rules
1. The Chief of Police is the Highest ranked within the PD, he controls the SWAT leader and other officers. The Chief of Police takes orders from the Mayor.

2. Failing to follow orders is considered FailRP. You will be demoted for this, if the CoP or SWAT leader isn't leading as they should, demote them or contact an admin.

3. PD members can only KOS if the suspect has a gun out and is being a threat! Otherwise an arrest must be done, failing to follow this will get you jailed/demoted.

4. PD members can't become corrupt.

5. You can only build on the street in the first 5 minutes of a raid. If you with to build at any other time please contact an admin.

6. It is not allowed to baton rush! Example arresting an shooting person in his doing. You must get control before you can arrest the person

7. You may not weapon check someone without having a valid roleplay reason.
Exception: You may weapon check anyone who is inside of the PD as this is a high security area.

8. PD members are not allowed to own ANY doors. Your home is the PD station. This rule doesn't apply to the mayor or his family.

9. The first PD door is open to the public and must not be locked unless there is a lock-down issued by the Mayor.

10. You cannot place a hit as a government official.

12. You are not allowed to bait to gain valid reasons to raid a base. Example is standing on the KOS line waiting for them to shoot/kill you. If a police officer crosses the KoS line and gets killed, the police cannot raid.

13. You are not allowed to let non PD members inside the pd under any circumstances. Ex. The mayor can not hire a pet and then let it live inside the PD.

14. You can not raid on the basis of hearing printers, you must have visual sight of printers to raid.

15. You may only AoS if somebody passes a police line which says "do not cross"
These are the police lines that you can only have a AoS for
SWAT Rules

:
- As a swat member you need to follow your swat team leader/mayor/chief of Police orders
- Try to react to all of the crime that you are aware of.
- You can only serve the PD.
- You need follow mayor's laws.
- If you see someone with an illegal item, tell him to drop it and use FearRP. Restrain him and call for backup!
- Do not battering ram peoples bases for the sake of destroying them.

How to play as a Gov. Official
Police
Mayors Bodyguard
S.W.A.T Unit
FBI Basing Rules:
FBI Agents have additional restrictions imposed upon their bases

1. You may not use fading doors in your base.
2. You may however, use one way props.
3. You must have permission from the mayor/chief of police before you're permitted to build.
4. You may only base with other FBI Agents.
5. As you work for the government, you may not place KOS signs, instead AOS signs should be used.
Bunker Rules:
Both
Gangs
and
PD
are allowed to base there - with few rules to note:
You must be in a party of atleast six members.
2. As PD - you are not allowed to KOS, only AOS
3. If you're going to base there then utilize the bunker. If you aren't using it constructively and someone else wishes to use it, you may be evicted.
4. You can claim the bunker after successfully raiding as PD or Criminal - You need to advertise what you did i.e (/advert Bunker claimed by Gang/PD).
What to do in a Lockdown
What to do with Kidnaps
---
---
---
1) A gang may only have 2 thieves!

2) A gang may only have 1 gun dealer of either heavy or regular class in a gang. The dealer must still have a shop and run it!

3) Gang members must go under the same name/job title. Example "[the holms] Holmenlund" as RP name.

4) Gangs may not own an entire district.

5) Gangs may own a maximum of 1 building Unless they have more than 8 active players

6) Gangs with more than 8 members may not base in the middle of town.

7 ) Gangs may raid the same person every 15 minutes.

Medics, Prostitutes and Chef may not be in a gang

9) Gangs may not have KOS for loitering(To stand idly about; linger aimlessly.)

10) Gangs may declare war to target opposing members for RP (Kidnaps, Bounties etc.) however you cannot KOS on anyone

11) A gang base may be made by only 2 people, to stop too many props being in 1 place

12) Allied gangs can defend each other, however they can not raid with Allied/other gangs. (When you do defend you must advertise Ally Assistance)

13) A Gang must state their Allies on a sign!

14) You can only have 2 allied gangs. Marauder Rules: 1. The Marauder cannot base, ofc they can use the base as a hub but you are not allowed to defend it alongside your gang, you can defend it outside where PD members encounter you first.
2. There can only be 1 Marauder for each gang.
3. The Marauder can be hired by any gang if the player is not affiliated by any.
4. The Marauder can also choose peaceful existence and serve as a defender meaning that he (can be hired by non-criminal bases (i.e clubs, whorehouse etc.. ))
5. Please add the gang name in front of your Job, <Gang Name> Marauder or if hired to defend <Name of the contractor> Marauder. ex:

CA Marauder

-

Wankish's Marauder

and so on. 6. You are allowed any gun except for sniper rifles.
---
---
---
> Admins are allowed to judge if there isn't a rule against it. <
1. Don't change your custom job name to something that changes the jobs role and goes against the job description


- Being a security guard and change it to PD security doesn't change his job. However changing to 'hairdresser', for example, does. Custom jobs are allowed for Civilians or with admin permission.



2. Try not to swear too badly in role-play, don't swear at all in OOC.
- If people start getting offended by what you say then stop.
- Being racist in RP is not allowed.

3 Don't spam the chat. You will be kicked and possibly banned for this.


- This is common sense. Spamming the chat is a way of ruining the fun for other players.




4. Hobos can build their home on the street using garbage props and such.
- Spawning 1 or 2 big props is allowed yet keep it real.
- A hobo home on the street cannot have a fading door or any wire-mod features.

5. Don't spam text screens or put offensive language on them.

6. When raided, you cant close a fading door as soon as the raiders open it.
- You are not allowed to use hot-keys to your faded doors under raids to activate them etc.
- If you wish to avoid typing in the code, then connect a wire button to the door for easy activating

7. We do not allow War on the server ! NLR overrides this and it is a pure excuse to RDM in our eyes.
- This includes gang wars as well
- You are fully allowed to raid each other, but the RDM on sight on street is what we wish to avoid by this.

8. Gun dealers may not work for the police.

9. You can have a maximum of 3 fading doors for the entrance of your base + 1 for holding printers and a further + 1 for hostages that you kidnap.
- don't spam fading doors on your front door
- There must be room in between to stand in so the person doesn't get stuck on the previous faded door.
- Having 2 props in a row connected to the same keypad is still not allowed, it will count as having 2 faded in a row.

10. You may only kidnap 2 people at the same time
- Kidnapping can last for 10 minutes max.
- You can't kidnap people in sight of others, just like mugging.
- Using your team-chat, advert, OOC etc. while being kidnapped is allowed until the kidnappers "takes" your phone. Then you can't.


- The maximum ransom for a hostage is 50k.



11. Gun dealers can't self supply
- taking all the weapons for them selves is not allowed
- You are allowed to supply yourself with 1 or 2 gun for defense

12. Chain adverting is not allowed
- Advert only the currect action you are doing. Example /advert mug
- Do not make the following /advert Mug/kidnap/steal/pooping/punching etc.

13. Doctors, PROSTITUTES AND CHEF are not allowed in gangs !
- They are meant to set up hospitals AND BROTHELS(who

rehouse) for the public !
- Otherwise they abuse their healing ability for the sake of the gang.

14. You cannot place a hit as a government offical

15. ATM Hackers may not build a base at locations/buildings that include ATMs.

16. Using nocollided walls under raids as cover (walking back and forth to shoot). is not allowed ! We consider this an unfair advantage over the raiders.

17. Wire lights are not allowed on the server.

18. Don't use the gravity gun to pull a prop that is welded to a wall to walk through it.

19. Magic Tree Men follow the same basing rules as the gun dealer.
- The store must be visible and available for public
- If you are in doubt ask an admin

20. Only the Casino manager is allowed to build in the casino !
- He may charge people on the entrance to the machines
- He is also meant to make fight clubs for the club fighter to join

21. Changing models/wiremodels to be able to spawn them in is glitchabuse !
- You will only be given 1 warning!
- There are reasons why we do not allow certain wiretools, don't force us to remove it all.

22. You're not allowed to spawn props, no collide them, turn no gravity on, and sit on them!
- You will be given 1 warning!
23. Knives are considered weapons, therefore you'll need a gun license to have it. Having it out in public is not allowed in any circumstance.
- Police must ask them first to holster their knives, if they fail or do it again, an arrest can be conducted.
24. When building, all areas in which you shoot from and in which you can get shot from must be the width, height and depth of a keypad's height that is on a wall, to prevent hitbox glitching. You cannot have the keypad lying down or smaller than it is when placed onto a wall. Failure to follow this rule will result in the removal of your base and a warning.
Example:
25. Trading items such as CS:GO knives and real money for in-game items isn't permitted.
26. Baiting the police to raid you also isn't allowed. This includes publicly displaying your printers or having TV screens showing illegal things.
---
---
---
Basing/Community Rules/ Oil Rig Rules:
http://www.civilgamers.com/forum/m/18343296/viewthread/22747816-base-community-rules